Welcome to the Ayatsuri Sakon Wikia
Ayatsuri Sakon (人形(からくり)草紙あやつり左近, lit. "Doll Puppeteer Sakon") is an anime based on the manga series written by Masaru Miyazaki and illustrated by Takeshi Obata.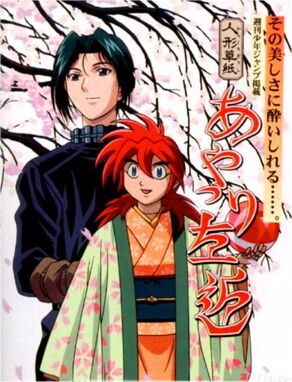 Note: I thought of making a wikia for this anime (Ayatsuri Sakon) because there doesn't seem to be enough information for it and there's no existing wikia just for this very anime. If possible, if you are interested in this anime as well as I do then please help us expand and make it better (by adding information, photos, quotes, episode information, other character pages w/ information about them, relationships, etch). Thank you very much in advance!
Plot
Sakon is the grandson of the famous Bunraku master, Tachibana Zaemon. He is incredibly shy and lacks confidence in himself. However, when he is with his puppet, Ukon, he is able to focus himself and his crime-solving abilities. As a contrast to traditional Bunraku puppeteering, Sakon is an expert ventriloquist. He uses his talent of mimicing and throwing voices to confront the villains and often force a confession. Ukon is a beautiful Bunraku puppet created in 1870, Meiji era, supposedly by the Master puppet-builder Unosuke Koizumi III. But Ukon doesn't act as a good Bunraku puppet should. When he is with Sakon, he is forward, obnoxious, flirtatious, coarse, and very egocentric. Together, Sakon and Ukon travel around Japan, solving mysteries, murders, and horrific crimes. In the meantime, Sakon's aunt Kaoruko, a young and pretty police detective, helps him out and keeps an eye on him from time to time.
Character Database
•Characters • Secondary Characters • Supporting Characters • Villains •
Episode Guide
•Episodes •
References
Review(s)
https://abandonedfactory.wordpress.com/2011/10/20/puppet-master-sakon-someone-with-a-demon-in-the-depths-of-his-heart/
Latest activity
Photos and videos are a great way to add visuals to your wiki. Find videos about your topic by exploring Wikia's Video Library.
Community content is available under
CC-BY-SA
unless otherwise noted.