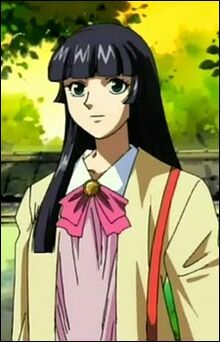 (船橋葉月 Funasaki Hazuki) Hazuki is a supporting character in the first investigation, she requests Sakon's help after she receives a strange letter. She was a part of a puppet club in school, and during her time there, an accident had happened which led to the suicide of one of the members. The mysterious note she receives, forces her to go to her old school, which has since been abandoned. Upon entering the school with Sakon, she meets up with her old classmates. However, something is amiss when one of her classmates is murdered!
Hazuki makes a small appearance in the last episode, she appears in the audience to watch Sakon's play.
Personality
Edit
Hazuki is very laid back, and easy going.