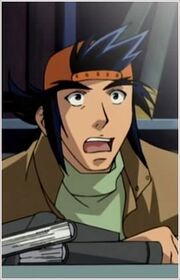 Zenkichi, is a supporting character in Ayatsuri Sakon. He is a photographer friend of Sakon's, and sometimes accompanies him on his adventures. He can be a valuable ally to Sakon, when a murderer is on the lose.
Zenkichi appears during the fourth (Episodes 11-13), seventh and eighth mystery.
Personality
Edit
Zenkichi has a go-getter personality, especially when it comes to taking photographs.
According to Ukon, Zenkichi tends to forget to take photographs half of the time.